Mathematics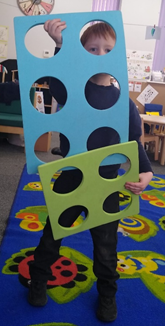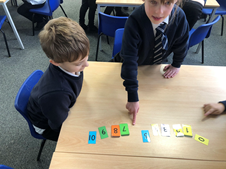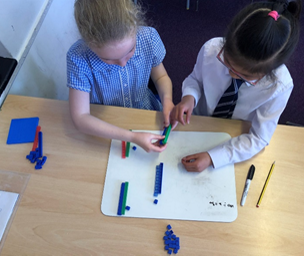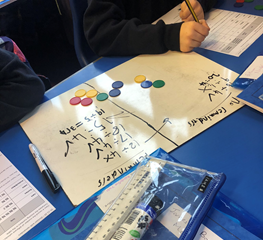 Ash Grove follows a "teaching for depth" approach to mathematics, which is sometimes termed "mastery". This approach enables all children to master the mathematics curriculum. It draws heavily upon research conducted by the EEF (Education Endowment Fund) and their recommendations.
What is the intention of our curriculum?
The intention is to develop a positive mindset about maths and ensure depth of conceptual understanding through progressive mathematical fluency, problem-solving and reasoning skills. This helps our children to know more, remember more, and do more. The mathematics curriculum is planned and sequenced using small step progression through concepts. A concrete-pictorial-abstract approach ensures the use of appropriate manipulatives, models and representations to support this understanding.
All year groups are taught in mixed attainment classes and are encouraged to notice, reason and wonder about maths. Scaffolding and directed support are implemented to ensure children are mastering the small steps of progression at roughly the same rate. We ensure challenge for all children by giving everyone the opportunity to develop fluency and reasoning skills to their own level across a range of contexts. Collaborative learning and dialogic teaching strategies support the use of rich mathematical talk, giving children the opportunity to explore mathematical concepts, resolve errors and identify misconceptions for themselves.
How is our curriculum designed and implemented?
At Ash Grove, we understand that every child is unique and will join us in the Early Years with different experiences and at different stages. We follow the Statutory Framework for the Early Years Foundation Stage to ensure that pupils show a Good Level of Development (GLD) by the end of their Reception year. We use the Birth to Five Matters: Non-statutory guidance for the Early Years Foundation Stage to inform planning and small step progression within mathematics. We understand that children need to regularly revisit concepts for them to become embedded. Children in the Early Years Foundation Stage (EYFS), in both the Nursery and Reception classes, are taught maths through a balance of adult-led and child-initiated activities. They are presented with opportunities to apply the same skill in a variety of different ways and in different contexts. In Nursery, staff use learning trajectories as a point of reference and as a source of pedagogical knowledge for activities and ways to address misconceptions or close gaps in learning. In Reception, children access their early maths curriculum through the NCETM Mastering Number programme, which aims to secure firm foundations in the development of good number sense, patterns in number, confidence and flexibility.
The National Curriculum mathematics programmes of study are the basis for children's learning at Ash Grove Academy. However, we do not follow a particular scheme of work in terms of materials or rate of coverage. The DfE's non-statutory 'Maths Guidance: key stages 1 and 2' document sets out the essential 'ready to progress' criteria for each year group and this, alongside the use of the NCETM's curriculum prioritisation and Primary Mastery Professional Development materials, underpins our pedagogical approach, ensuring teachers can plan and deliver lessons that meet the needs of the children in their class. Small steps for both conceptual and procedural understanding are planned for, giving due consideration to common misconceptions that are likely to occur. Additional quality materials may be used to supplement these. Topics are taught, through rich maths talk and practise activities, until teachers feel that an appropriate depth of understanding has been achieved by the vast majority of the children. Gaps in learning are identified in a timely manner and, whenever possible, addressed through timely intervention. Children use concrete, pictorial and abstract models and representations as appropriate to the learning context and across all year groups and levels of attainment. This supports learning before procedural methods are used, and allows children to select from a range of strategies for efficiency and to support success. Children will be expected to apply this learning within a range of contexts, rather than completing extended procedural practise.
A typical series of lessons may include some or all of the following elements:
An opportunity to assess or evaluate prior learning to ensure the children are ready to progress on to this series of lessons.
An opportunity to work collaboratively to identify and explore a misconception, make connections and notice and wonder about a mathematical concept. Strategies are shared and discussed.
Further opportunities to practise and apply these concepts and strategies are given through the use of 'mini tasks'. These will involve a balance of direct instruction, collaboration, rich maths talk, and independent practise, consolidating the small steps of progression.
Independent recording tasks will only be completed when teachers feel that the children can tackle the concept, in terms of fluency and reasoning, and are therefore ready to progress. These independent recording tasks will also give those who are ready the opportunity to reason at a deeper level, thereby providing challenge for all.
The independent recording tasks in books aim to reflect the learning journey of each child across the 'small step' objective. Not all children will have completed all tasks, but they will all have had the opportunity to explore the concept in a range of contexts and apply their new learning in both fluency and reasoning questions. If the initial fluency and reasoning questions are completed independently and successfully, we can say they are ready to progress. The 'sticking point' for each child should be apparent in their independent work.
Teachers will give focused teaching time to those pupils who may require further support, and pupils are encouraged to actively ask for more help if needed. Some children may move on to problems of greater complexity that may be completed over a series of lessons.
The above range of activities may not always suit the learning taking place, and in these instances the structure will be adapted to best suit the learning process.
Mistakes are valued and celebrated. Unpicking misconceptions so that children evaluate their thinking is vital in scaffolding children towards greater independent learning.
Written and verbal feedback allows children to reflect and go deeper with their learning, and we expect all children to respond to marking in a timely manner. The aim of marking and feedback is not simply for children to correct their work, but for them to recall, reflect and self-monitor. When possible, teachers offer timely interventions to those children who need to secure their learning before moving on.
Children may also be given routine arithmetic questions or problems as a low-stakes recall of previous teaching on a range of topics. Depending on the outcome, more or less time in that lesson will be devoted to reviewing and correcting errors, but it does not take the place of quality teaching for the planned topic. Such practice is a good example of repetition and spaced learning, thereby leading to greater fluency and better understanding.
For 2023-2024, Ash Grove Academy will be following the Curriculum Prioritisation Overview as designed by the NCETM. A link to coverage and progression can be found by clicking here.