UNICEF Rights Respecting School
In January 2020, Ash Grove Academy began the journey to becoming a UNICEF Rights Respecting School. This means that we are embedding the United Nations Convention on the Rights of the Child within all that we do, from our curriculum content to our corridor displays.
Our first aim was to achieve Bronze Award: Rights Committed. In order to reach this milestone, we had to inform and involve the whole school community, including staff, governors and parents, so that everyone was aware of the rights of the child and the commitment we were making as a school.
As well as this, we set up an RRSA Steering Group made up of parents, staff and children across the school. Their job was to push out an audit to measure our starting point, evaluate the outcomes of this audit, and use this to create a clear and detailed Action Plan. We also needed to begin to inform the children of Ash Grove Academy of their rights according to the UN Convention, their role as Rights Holders, and the need for them to respect the rights of others.
Back in March 2020, we were judged to have met all of the criteria to meet the standard for Rights Committed, and we were awarded our Bronze Award.
Since March 2020, children and staff have been working hard towards achieving our Silver Award: Rights Aware. Being Rights Aware is the second stage of the Rights Respecting Schools Award and to achieve the Silver Award, we had to show good progress towards embedding children's rights in our school policies, practices and ethos.
We are incredibly proud to say that we were awarded our Silver Award in March 2022.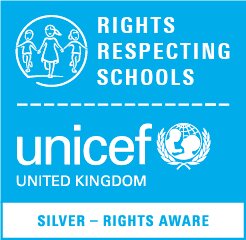 Our next step on our Rights Respecting Journey is to achieve Gold: Rights Respecting. We hope to do this within the next 18 months. To achieve the Gold Award, we need to demonstrate:
Children, young people and adults at Ash Grove have a thorough understanding of children's rights, and rights respecting attitudes and language are embedded across the school.
RRSA has had a positive impact on children and young people's learning and wellbeing.
Students see themselves as rights respecting global citizens and are advocates for social justice, fairness and children's rights at home and abroad.
Watch this space!